Welcome to Antler Ridge Winery!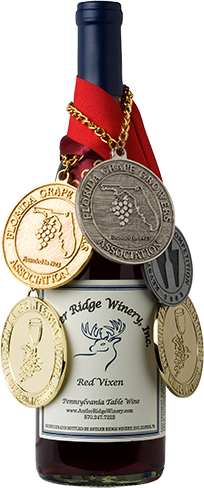 Thank you very much to all of our loyal customers! We recognize the landscape in Pennsylvania and around the country is rapidly changing. If you would like us to SHIP WINE TO YOUR HOUSE, we do offer shipping to Pennsylvania and Florida residents now and more states to follow very soon.- click on the shipping tab for instructions.
Our award winning wine, great staff, beautiful facilities, spacious deck, impressive tank room and beautiful views are just a few reasons to visit us. Come out and enjoy an afternoon with us.
Antler Ridge is nestled in the beautiful mountains of Bradford County just north of Rome PA, near Towanda. Our tasting room offers a picturesque mountain view. Our tank room will capture your attention as you view our state-of-the-art facilities through large windows while sampling our wines. Grapes are fermented and wine is carefully aged at precise temperatures in oak barrels and stainless steel tanks. The Unis family invites you to visit and experience our handcrafted wines.
Our wines are made from a variety of grapes found throughout Pennsylvania. We work with our partner vineyards, taking great care and effort to only use the best fruit available for our wines. Grapes are tested for proper ripeness before hand picking. They are then crushed and processed within hours of picking. This great care and effort is absolutely necessary to produce fine wines.
Our wines are fermented in stainless steel tanks which are all temperature controlled to allow us to achieve the desired wine style. A few select wines are barrel fermented in French and American oak barrels to enhance the flavor. We take great care to ensure that our wines will not disappoint you!
Some of the items we offer are:
Wine racks, gift baskets, picnic carriers
Home wine making supplies - A complete line of home wine making supplies including additives, yeast, instruments, test kits, cleaning supplies, brushes, siphons, tubing, carboys, bottles, corkers, corks, capsules
Wine making kits - neatly packaged kits of your favorite juice ready to be made into wine
Fresh pressed juices in the fall for home winemakers
Wine related gifts, clothing and home accessories such as carafes, glasses, gift baskets, cork screws, bottle stoppers
Wine by the glass with cheese and crackers as you sit on our umbrella covered deck furniture